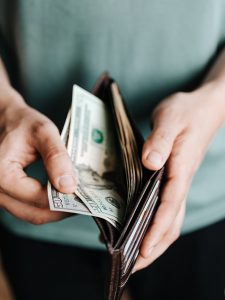 Once your construction loan has been approved to close, before the loan can be finalized and funded, you'll need to sign documents and pay closing costs at a closing meeting. Prior to the meeting, you'll need to stop at the bank to pick up the cash to close, which is to be paid during the meeting. Cash to close is the total amount of money you will owe on your closing day and is determined by your closing costs minus any fees that are being rolled into your mortgage plus your down payment. Because of this, your cash to close will likely differ from your total closing costs. It's important to keep in mind that while this amount is called "cash" to close, most lenders won't accept this payment in cash. We'll explore the ways you can pay your cash to close later in this article.
How do I know my cash to close amount?
Your closing costs will be outlined in your closing disclosure. This document will itemize your closing costs for you, therefore it's critical to review it thoroughly to be sure that your lender has not included any duplicate fees or fees that have already been paid. Compare your closing disclosure with your loan estimate outlined at the beginning of your home loan journey to make sure that the fees don't differ dramatically.
How to pay cash to close
There are multiple options regarding how to pay your closing costs, however we recommend choosing the most secure methods.
Certified check: A certified check is only issued once the bank confirms that you have the cash in your account to cover the check amount.
Cashier's check: Cashier's checks are certified by your bank and are initially paid by the bank who will then take the money out of your account once the check is cashed. Cashier's checks have a number of security features that make them hard to counterfeit.
Wire transfer: Electronically send money to your lender via a wire transfer prior to closing.
There are other less secure methods to pay your cash to close that may or may not be accepted by your lender. We do not recommend these methods of payment:
Cash
Credit or debit card
Personal check
Your cash to close amount is your final payment before your loan is finalized. If you're ready to begin the process to build the home of your dreams, get started now!